The 49 Personality Archetypes
Back in 2010, when we launched the original Fascination Advantage, the F-Score personality test, we outlined 7 main personality types according to the 7 Advantages of fascination. After reviewing the data of the initial 600,000 people who took the assessment, we learned a critical insight: There are actually 49 Personality Archetypes.
Our research reveals that there are 49 different Archetypes:
Each Personality Archetype has a "primary" Advantage (the one that makes you most persuasive and captivating), and a "secondary" Advantage (the one represents your second most persuasive characteristic). An example:
A "PASSION/POWER" personality uses PASSION as their primary means of fascinating, and they are next likely to use POWER. The PASSION/POWER Personality Archetype is "THE PEOPLE'S CHAMPION." The People's Champion is dynamic, inclusive, and engaging.
No two personality Archetypes persuade and captivate in exactly the same way. Each has a different communication style, relationship approach, and set of priorities.
Here's what we learned: the secondary Advantage is far more important than we originally realized. For instance, a PASSION/POWER personality is very different than a PASSION/MYSTIQUE or a PASSION/TRUST. We can make certain predictions about a person, based on their primary Advantage, but the secondary Advantage is where we refine our vision of that person.
A quick overview of 2 different Archetypes:
POWER/PRESTIGE is "THE MAESTRO."
Confidence is one of your greatest assets and you waste no time in accomplishing your goals. Never wanting to settle, you are ambitious and always looking for ways to improve. People admire your unwavering conviction.
PASSION/ALERT is "THE ORCHESTRATOR."
You are always mindful of a situation and you can quickly discern how to achieve the best results. You make sure that projects are always on track and that the details are not forgotten.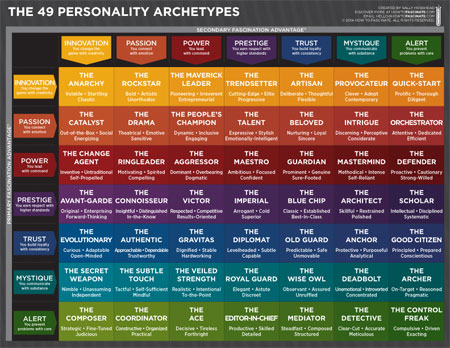 How does the Fascinate System determine someone's Personality Brand?
The Fascination Advantage Assessment scores a participant according to our custom algorithm. The results play the most significant part of determining a participant's Personality Archetype. When a participant has unusually high scores, or uncommon distribution of scores, one of our senior strategists will look at the total results to determine the Personality Brand.
We present the assessment results, along with action steps and big-picture guidance, in the Fascination Advantage Report. This report maps out:
How the personality will most effectively communicate and collaborate
How others will view this personality for leadership and inspiration
One minute coaching to help you avoid pitfalls
Action steps for creating better first impressions
After the assessment, next steps can include creating your own Anthem, training, our upcoming online curriculum, and in-person events.
LET'S DISCOVER MY PERSONALITY ARCHETYPE